How To Keep The "Summer" Out Of Your Hair
07.18.13
Summer is all about being outside at the beach or in a pool. While we are enjoying ourselves in the water to stay cool we may forget the effects that salt water and chlorine have on our hair. Fortunately for us there are shampoos that will remove these minerals and chemicals. Here are some of our summer must haves!!!
Malibu Swimmers Wellness Shampoo gently removes pool elements that otherwise attach onto hair while swimming.  It helps prevent "green hair" that people with blonde hair have to worry about. This shampoo is also sulfate free!! It also infuses vital moisture for natural hydration and radiant shine.
Nioxin Clarifying Cleanser is specifically formulated for all hair types. Gently neutralizes the "hard water" mineral deposits on hair, removes chlorine effect and swimmers hair. Removes styling product and other environmental build-up.
Redken Hair Cleansing Cream Shampoo clarifies and helps remove mineral deposits and styling product build up on all hair types. Formulated with fruit acids to add shine, it purifies and refreshes hair. Contains a high concentration of chelating agents that surround minerals, making them more soluble so they can be washed away.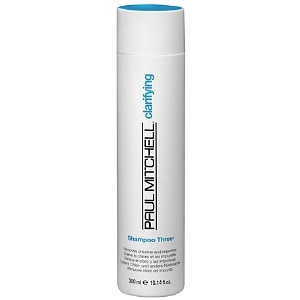 Paul Mitchell Shampoo #3 is specially formulated to wash hair from the inside. Helps remove chlorine and impurities, increase inner strength and prevent immediate re-deposit. Ideal for swimmers to beat the "chlorine green". Excellent for use before deep conditioning.