Snow…Cold…Wind… We've been having a pretty rough winter and your hair, skin and lips are probably feeling the effects. Here are some of our favorite products to help moisturize and revive dry hair, skin & lips.
Dry, cracked lips?
Hempz Lip Balm is enriched with 100% Pure Natural Hemp Seed Oil for ultimate lip hydration and conditioning. With a soft Herbal Citrus scent and an SPF 15 to protect lips against UVA/UV, it's a
EOS Lip Balm has been a huge craze for months now and for good reason. This lip balm contains Vitamin E, shea butter and jojoba oil to keep your lips moist, soft and sensationally smooth. 100% natural, paraben and petrolatum free, and with 7 amazing flavors to choose from you can't go wrong!
Red, Flaky skin?
It is always best to remove the dry, flaky skin before moisturizing. We recommend using Joey Gentle Peel Cleanser and Coconut Scrub. A luxurious cleanser scrub made with real coconut shreds to deeply clean, hydrate and brighten skin complexion without stripping the skin of its natural oils leaving your face super smooth, soft, brighter, refreshed and glowing. May be used daily with a splash of water for gentle exfoliation or without water once a week for deeper exfoliation.
Once the flaky skin has been removed, it is very important to moisturize as this becomes a shield for your face from the cold. Our top pick is Philosophy Miracle Worker helps replenish skin's natural moisture barrier, leaving it feeling satiny smooth. Resveratrol helps promote skin's vitality for a firm, radiant result. It helps support natural collagen, brighten a tired complexion and protect skin against environmental attack, the primary cause of premature aging.
Dry, cracked hands?
Ahava Mineral Hand Cream is a must have this winter.  Mineral-rich cream specially formulated to protect hands and safeguard them from environmental and household damage. Instantly improves skin's moisture level, smoothes rough, dry skin and restores suppleness. Witch Hazel extracts smoothes skin, providing refreshing, revitalizing effect and Allantoin heals dry cracked skin and blemishes. Excellent for daily use.
Dry legs and arms?
Hempz Original Herbal Body Moisturizer is enriched with 100% Pure Organic Hemp Seed Oil and blended with natural extracts to provide dramatic skin hydration and nourishment to help improve the health and condition of skin. Shea Butter, Ginseng and natural extracts help calm, soothe and condition the skin. Vitamins A, C & E help protect skin from natural and environmentally triggered oxidants. Provides 12-hour moisturization and is available in 4 delightful scents: Original, Citrus Blossom, Pomegranate and Fresh Coconut & Watermelon.
Dry, brittle hair?
Wella Enrich Treatments are the ultimate moisturizing treatments for dry or damaged hair. It moisturizes and provides incredible smoothness and repairs hair with Triple Blend Technology. Available in two formulas, fine or thick, to give your hair texture the right amount of moisture. Apply to shampoo, towel dried hair and leave on at least 5 minutes. Can be used as a weekly treatment.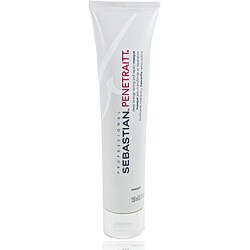 For a deeper penetrating treatment, try Sebastian Penetrait Masque. It transforms hair that is dry and dull into soft and shiny in minutes. This works great on chemically treated or heat damaged hair that has been dried out even more form the cold. Apply to shampoo, towel dried hair and leave on 2-3 minutes. Use as needed.
Give any of our favorite products a try and say goodbye to your Winter Blues. Isn't it about time you get your hair and skin back into shape?